In 1996, Disney ordered new episodes of
Doug
to be produced (renamed
Brand Spanking New! Doug
, and then later
Disney's Doug
) which was in production from 1996–1999.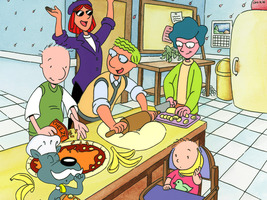 Several differences between the original and Disney versions exist. The Disney episodes featured a new theme song and added a younger sister, named Cleopatra Dirtbike Funnie, into the Funnie family. Perhaps to account for time, Doug's age was changed to 12½ years old. Several other minor character changes were added, including a new haircut and a darkened skin tone for Patti Mayonnaise, and Connie Benge changed from a fat to a thin character. Less noticeable than Patti's new hairdo was the change in Doug's haircut, due to trademark considerations. The original Doug has eight hairs; Disney's Doug has nine. Other changes include Roger Klotz becoming rich, having lived poorly in a trailer park previously, the closing of the Honker Burger (a parody of the real-life In N'Out Burger, though this would, however, be replaced by Swirly's), Mrs. Dink becoming the mayor, and The Beets (a loose parody of The Beatles) breaking up. Skeeter's clothing changed, too - the lightning bolt on his shirt became a zero, and the colors of his clothes changed. Plus the often mentioned but never seen Skunky Beaumont becomes a prominent character.
On March 15, 1999, Disney premiered a new musical stage show, "Doug Live!" at Disneys Hollywood Studios (at the time known as Disney-MGM Studios) at the Walt Disney World Resort. The show ran until May 12, 2001. Additionally, a theatrical feature-length film,Dougs 1st Movie was released on March 26, 1999, before production on the television show ceased.
During the course of the show, Doug was nominated for at least two Daytime Emmy Awards.
In the Disney version, every episode was a full-length episode of about 22 minutes, split into three segments. In the Nick version, most episodes were composed of two 11-minute segments. The only exceptions are the pilot, Christmas, and Halloween episodes, which were full-length episodes split into two segments.
Billy West, the original voice actor of Doug from the Nickelodeon version, has stated that he did not like the Disney version, and that he "couldn't watch" the show. &nbsp