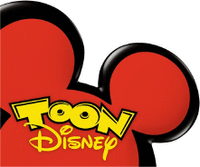 Final programs
Edit
American Dragon: Jake Long (August 1, 2006–February 13, 2009)*
Brandy & Mr. Whiskers (October 2005–February 13, 2009)
The Buzz on Maggie (August 1, 2006–February 13, 2009)
Dave the Barbarian (October 1, 2005–February 13, 2009)
The Emperor's New School (August 1, 2006–February 13, 2009)*
House of Mouse (September 2, 2002–February 13, 2009)
Kim Possible (September 5, 2005–February 13, 2009)*
Lilo & Stitch: The Series (August 1, 2006–February 13, 2009)
The Proud Family (September 1, 2004–February 13, 2009)
Recess (September 1, 2003–February 13, 2009)*
The Replacements (January 1, 2007–February 13, 2009)
Shaun the Sheep (September 10, 2008–February 13, 2009)
Fillmore! (September 1, 2003–February 13, 2009)*
The Legend of Tarzan (September 1, 2003–February 13, 2009)*
Timon and Pumbaa (April 18, 1998–February 13, 2009)
Chip 'n Dale: Rescue Rangers (April 18, 1998-February 13, 2009)
Former programs
Edit
Original programming
Edit
Power Rangers SPD (2005-2009)
Power Rangers Mystic Force (2006-2009)
Power Rangers Operation Overdrive (2007-2009)
Power Rangers Jungle Fury (2008-2009)
Non-Original programming
Edit
Non-Acquired programming
Edit
101 Dalmatians: The Series (September 7, 1998–January 30, 2006; March 2007)
Adventures of the Gummi Bears (April 18, 1998–December 28, 2001)
Aladdin (April 18, 1998–March 2007)
Bonkers (April 18, 1998–November 2004)
Buzz Lightyear of Star Command (September 1, 2003–September 2007)
Darkwing Duck (April 18, 1998–November 2004, March 2007)
Donald's Quack Attack (April 18, 1998–October 2002)
Doug (September 3, 2001–September 30, 2005)
DuckTales (September 3, 1999–June 10, 2008)
Gargoyles (September 7, 1998–February 13, 2009)*
Goof Troop (April 18, 1998–September 20, 2008)
Hercules: The Animated Series (August 1, 2000–September 20, 2008)
Jungle Cubs (April 18, 1998–December 28, 2001)
The Little Mermaid (April 18, 1998–September 20, 2008)
Llord in Space (September 2, 2002–March 2007)
Marsupilami (April 18, 1998–September 1, 2002)
Mickey Mouse Works (October 1, 2001–August 31, 2003)
Mickey's Mouse Tracks (April 18, 1998–September 1, 2002)
Mighty Ducks (September 7, 1998–September 20, 2008)
Mighty Morphin Power Rangers (2004-2009)
The New Adventures of Winnie the Pooh (April 18, 1998–September 20, 2008)
Pepper Ann (September 3, 2001–September 30, 2005, March 2007)
Power Rangers Ninja Storm (2004-2009)
Power Rangers Dino Thunder (2004-2009)
Quack Pack (September 7, 1998–November 2004)
Raw Toonage (April 18, 1998–December 28, 2001)
Shnookums and Meat (April 18, 1998–September 1, 2002, March 2007)
TaleSpin (April 18, 1998–September 20, 2008)
Teacher's Pet (January 22, 2002–June 1, 2006)
Teamo Supremo (September 2, 2002–June 1, 2006)
Toon Disney Doodles (April 18, 1998–March 1, 2000)
The Weekenders (September 2, 2002–March 2007)
The Wuzzles (April 18, 1998–December 28, 2001)
Acquired programing
Edit
Adventures of Sonic the Hedgehog (September 7, 1998–September 1, 2002)
All Dogs Go to Heaven: The Series (January 1, 2006–May 1, 2006)
Bakugan Battle Brawlers (September 1, 2008-February 13, 2009)
Blazing Dragons (April 18, 1998–September 1, 2002)
Bump in the Night (April 18, 1998–September 1, 2002)
The Care Bears (October 19, 1998–December 28, 2001)
Gadget Boy (April 18, 1998–December 28, 2001)
Garfield and Friends (April 18, 2003–June 1, 2005)
Hello Kitty and Friends (September 7, 1998–December 28, 2001)
Hello Kitty's Paradise (September 2, 2002-June 1, 2006)
The Littles (April 18, 1998–September 1, 2002)
Madeline (April 18, 1998–August 31, 2003)
Mary-Kate and Ashley in Action! (September 2, 2002–November 19, 2004)
Mighty Morphin Alien Rangers (2005-2009)
The New Archies (April 18, 1998–September 1, 2002)
Power Rangers Lost Galaxy (2005-2009)
Power Rangers Lightspeed Rescue (2005-2009)
Power Rangers Time Force (2005-2009)
Power Rangers Turbo (2005-2009)
Rupert (September 3, 2001–September 1, 2002)
Sabrina: The Animated Series (September 2, 2002–June 1, 2006)
Sabrina's Secret Life (August 1, 2004–June 1, 2006)
Super Dave: Daredevil for Hire (April 18, 1998–September 1, 2002)
Toad Patrol (September 2, 2002-June 1, 2006)
Ultimate Book of Spells (September 2, 2002–August 31, 2003)
Wild West C.O.W.-Boys of Moo Mesa (April 18, 1998–April 1, 2001)
Wish Kid (April 18, 1998–September 1, 2002)
The Wizard of Oz (April 18, 1998–September 1, 2002)
Special Programming
Edit
Acquired programs that aired (or airing-declined) so far only as part of a special schedule include:
AAAHH!!! Real Monsters
Acme Hour
Adventures of Rocky and Bullwinkle and Friends
Courage the Cowardly Dog
Dexter's Laboratory
Fairly Odd Parents
Johnny Bravo
Maggie and the Ferocious Beast
Max Steel
Mister T
New Adventures of Mighty Mouse and Heckle and Jeckle
Quick Draw McGraw
Ren & Stimpy Adult Party Cartoon
Underdog
Wally Gator
Yogi Bear
Ad blocker interference detected!
Wikia is a free-to-use site that makes money from advertising. We have a modified experience for viewers using ad blockers

Wikia is not accessible if you've made further modifications. Remove the custom ad blocker rule(s) and the page will load as expected.