Mickey and Minnie's Birthday Bash Marathon is an programming marathon of Disney and Warner Bros. Shorts with Mickey Mouse, Minnie Mouse and Bugs Bunny and Friends.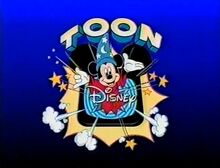 Marathons
Edit
Disney Shorts Edit
Mickey's Rival
Three for Breakfast
Springtime for Pluto
Donald Duck and the Gorilla
How to Sleep
Bumble Gum
The Legend of the Coyote Rock
In Dutch
Goofy's Glider
Baggage Buster
A Good Time For A Dime
How to Dance
Chicken Little
Music Land
Tiger Trouble
Warner Bros. Shorts Edit
May Hare Devil
Feed the Kitty
Duck Amuck
Daffy Duck Hunt
Kit for Kat
Gorilla My Dreams
Bugs Bunny Gets the Boid
Scaredy Cat
Tom Huck and Daffy
This Is a Life?
Wagon Heels
Dog Pounded
A Day at the Zoo
A Tale of Two Kittens
The Foghorn Leghorn
Ad blocker interference detected!
Wikia is a free-to-use site that makes money from advertising. We have a modified experience for viewers using ad blockers

Wikia is not accessible if you've made further modifications. Remove the custom ad blocker rule(s) and the page will load as expected.